Tim Hortons Youth Challenges:

The challenges are a number of events aimed at Developing U-18(bantam), elementary, high school and younger junior teams, including mixed teams. Divisions will be created in each event based on the competitive skill and experience of the teams.
Click on the picture beside the event listing for a poster with more information.
2016-17 Youth Challenges Schedule  revised November 1st 
EAST:
Community First Curling Centre (Sault Ste. Marie)


October 22-23
Deadline:  October 12, NOON
Register – First 16 teams only
Thessalon Curling Club


November 5-6
Deadline:  Extended to Monday Oct. 31st (noon)
Register
Idylwylde G&CC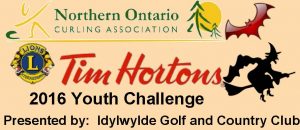 October 29-30
Deadline:  October 19th
Register – FULL
Horne Granite CC (New Liskeard)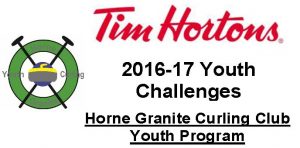 November 11-13
Deadline: November 2nd
Register
Deer Trail CC (Elliot Lake)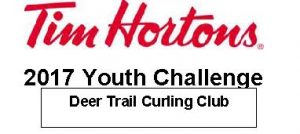 January 21-22
Deadline:  January 11th
Register    First 16 teams only
Copper Cliff CC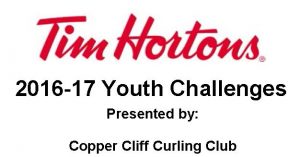 January 27-29, 2017
Deadline:  January 18th
Register
WEST:
Fort William CC (Thunder Bay)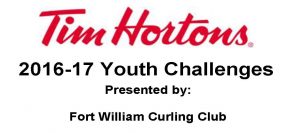 December 3-4
* Singles, Doubles, 4 player teams all welcome
Deadline:  November 25th
Register