With assistance from the Ontario Trillium Foundation and the Coaches Association of Ontario, NOCA is pleased to host a Curling Conference September 26-28 in Thunder Bay. (A second conference will be held in Sudbury October 24-26).
This conference is part of Ontario Coaches Week which allows us to offer the Club Coach Course for FREE.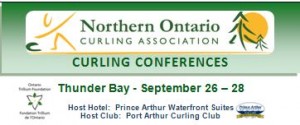 The conferences will feature a stream for Coaches and a stream for Curling Club Volunteers and will feature several keynote speakers.  The conference will begin at 6 pm Friday September 26th with registration and continue through the weekend.  The Port Arthur Curling Club will host a Learn to Curl clinic on Saturday in conjunction with the event.
***  Accommodation for up to two nights will be provided based on double occupancy of participants.  Please contact the NOCA office (888-597-8730) if you require accommodation.
***  Travel subsidies may be available depending on funding
***  Competition Coach participants are eligible for travel and registration subsidies through the Coaching Association of Canada
Registration Fees (participants will select which options they desire):

General Fee for all $30
Meals:
Friday Social          $15 incl guest speaker
Sat lunch                $20 incl guest speaker
Sat supper              $30 incl guest speaker
Sun lunch               $20 incl guest speaker
Coach Stream:
Competition Coach only             $235
Competition Coach and Make Ethical Decisions Combined  $285
Part of the certification process for Competition Coach is to take the Make Ethical Decisions course.  You can either take it online at a cost of $85 or take it with this conference combined with the Competition Coach Course at a cost of $50.
Make Ethical Decisions            $50
Club Coach                 FREE thanks to the Ontario Coaches Association
Professional Development modules               $50 (all inclusive)
Club volunteers   $50
Business of Curling sessions:
Recruiting new curlers, Social Media, Better Bonspiels, Ice and Rocks, Best Practices, How to run a successful Youth Program, Using Floor Curl to recruit new curlers, Curling for Life Long Term Athlete Development Plan, Board Member Roles and Responsibilities
Officiating:
Levels 1  & 2 Combined       $60