The Closest to the Pin and Online Contest prize winners have all been declared.  Many clubs participated and finalists in each age category were ranked based on their distance from the pin.
Under 12:
Allison Morgan (Cobalt Haileybury CC)
Dallas Burgess (Kakabeka Falls CC)
Johnny Morden (Thessalon CC)
12-17:
Francis Kostecki (Fort William CC)
Bryson Baker (Sioux Lookout G&CC)
Elizabeth Huska (Idylwylde G&CC)
Spencer Lawrence (Thessalon CC)
In the 18+ age category there were 13 finalists with a 0cm scoring – they drew right on the pin!  Their names were put in a hat and three winners chosen.  Those three winners' names were again put in a hat for first, second, and third prize.  The winner earned a prize package of tickets for two to the opening weekend of the Brier and a Best Western gift card.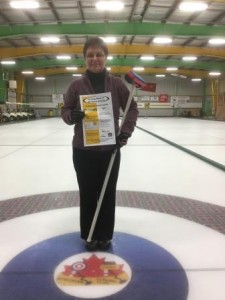 18+:
Twila Smitsnuk (Atikokan CC)
Nick Little (Cobalt Haileybury CC)Darlene Yakimoski (PAWECC)
All of the adult finalists' names were then put in a draw for the grand prize of two tickets anywhere Bearskin Airlines flies.  The winner of that prize is Mike Brown from the Deer Trail CC.
Prizes were also awarded daily in the online Curling Week contest.  All winners and their prizes are listed in the link below.
Congratulations to all of the winners, and thanks to all of the clubs who participated and made Curling Week in Northern Ontario another successful venture for curlers and clubs in the NOCA.