May 13-15th saw the NOCA Board meet for the annual face to face meeting and some changes to the Board occurred.
Marion Clark completed her term as Region 2 Director and is replaced by Linda Vellinga for a three year term.  Marion has also been the President of NOCA for the last two years.  The Board thanked Marion for her dedication, commitment, and hard work during her term as President and as the Region 2 Director.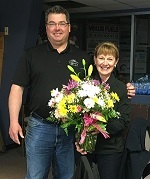 The NOCA Board for the 2016-17 season is:
Michael Szajewski, President and Director at Large
Stephen Meunier, Vice President and Region 6 Director
Joan Sheppard, Secretary Treasurer and Region 4 Director
Glen Poirier, Region 1 Director
Linda Vellinga, Region 2 Director
Karen Saarimaki, Region 3 Director
Sandra Lahti, Region 5 Director
Brian Gates, Director at Large
The third Director at Large position will be filled at the AGM, June 20, 2016.